New Business Ideas for Rural Areas, Villages, Start, Youth, Low Cost, Profit, India
Looking at the present scenario it seems that youths in rural areas migrate to different states in search of works. It basically let them earn livelihood because the employment opportunity is bigger in the cities. But, there are few businesses that the youth can start without living their home that means being in their villages. The businesses will open the opportunity to earn money, to start the businesses one does not have to spend hefty amount as well. The article is going to talk about some businesses ideas that will help the rural youths.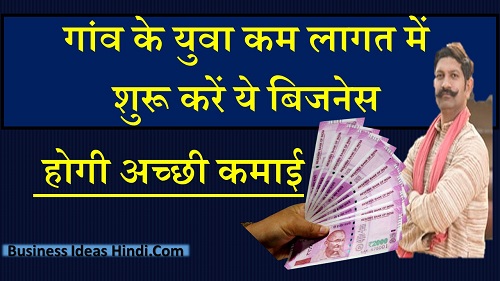 Investment Ideas for Rural Youths
In villages people often face financial issues so it might be difficult to start a business by investing. But, here is a way to arrange money, the central government of India has launched the Mudra Scheme for the people to take loan and start a business. So, let's talk about ideas that you can start a business in your village without leaving your home.
Grocery store is a great idea as a business at any area. People need daily essentials and for that they go to a grocery store. And in the case of villages, shops are located far away from homes. People need to travel to buy daily needs, in such case you can open one that will be near to the locality so that people can buy things from your store that will help you to earn money. You need to earn license to start a business.
Click Here to know about how to start Paneer Making Business in India.
Evening snack is a big thing in India- be it city or a village people love pani puri. But, getting a pani puri vendor in a village is little tough and that is the reason opting for a pani puri business will give you an opportunity to earn some money. The pani puri stalls are movable as well so you can change place for sales.
Barber shop is important regardless of city or village. People especially men, visit barber shops for cutting hairs, and shaving beard; so, it a beneficial business. You can also open a barber shop for women as well because in village there is less beauty parlors like city that are only for women. If you start a beauty parlor in your village then women will come for the service and that will help you to earn money against your investment. If you have a beauty parlor then you will be able to prepare omen for wedding, and other festivals.
Click here to know about How to Get Nail Salon Business Franchise Services Plan.   
Coconut Water Business :-
Coconut water is a refreshing beverage for summer and also a healthy option for people. So, you can start a business of selling coconut water to the people during summer and for that you do not need much capital to start yet it is a profitable business option.
Bicycle or Motorcycle Repairing Center :-
In the village people mostly ride cycle and motor cycle to travel. So, it is evident that when people use the vehicle more so there is a need for maintain them. In such scenario opening a cycle repair shop is a good business plan for your living. You can also sell small parts of cycle and motor cycle besides repairing them.  You need license for opening a repairing shop and you will get loan from government's loan scheme. There is a demand for such shops; so, opening a repairing shop will be profitable.
Click here to know How to Start an Air Conditioning Service Business.   
Regardless of city or village, women love cosmetics to look a little put together. And this is the reason you can start cosmetic shop in your village. It is difficult to buy makeup and skin care products in rural areas and online delivery is not always available. This is the reason if you start a cosmetic business by opening a shop then it will be profitable for you. It is essential to earn a license to open a shop. You can get good profit against your invest and that will be a good option for living.
Buying and Selling Grains Business :- 
It is easy to establish a business of buying and selling grains in a village because the farming is done there. You can open a store for grains and sell it to the common people and for the surplus you can buy it from the local farmers. The business will help you to earn good profit and this is the reason it is worth taking loan from the government's loan scheme to start a business.
Click here to know How to do Dal Mill Business.
The Business of Photocopy and Photography :- 
People require a studio for photos because passports pictures are required for several official purposes. Apart from that, people also love to have their photo taken by the professional so that they can frame it. So, if you have a skill then you can open a studio in your village. If you work with camera then you will get call from several occasions like marriage or birthday party from different places. It will help you to earn profit and if you buy a photocopy machine then you will be able to provide photocopy service. It is a great idea to start a business that will profitable in long run.
Therefore, here are some ideas that a rural youth can start a business in the village. You need to remember that to start a business and open a shop you will require a license. So, you need to choose one and start preparing for everything.
FAQs –
Q : Which business is best for rural area?
Ans : If you belong to rural area then grocery store and cycle repairing shop will the best option to earn fast profit.
Q : Which type of business can be profitable by starting a rural business?
Ans : You can start any of the above-mentioned businesses because they all are beneficial.
Q : How can I earn money in rural areas?
Ans : You can start a business to earn money sitting in a village. The business has to be appropriate for the place.
Q : Is a license required to start a business even while staying in the village?
Ans : No matter where you are license is important for all kinds of businesses.
Q : What will be the profit in starting a business in the village?
Ans : You need to do a little survey of the village market where you are setting up your business and according to that you need to choose an option to get most of it.
Other Links –